26.08.2019
TEMNOHOR "Pıcha Lesov Karpatskıch" 12"LP (re-press)
TEMNOHOR "Krv a pot Malıch Karpát" 12"LP
Re-press of "Pıcha Lesov Karpatskıch" has been this time released in cooperation with Into The Night.
Available as Black vinyl and limited Transparent Blue vinyl.
The second and final album of Temnohor "Krv a pot..." is finally available too.
Black vinyl and limited Swamp Green vinyl.
12.04.2019
TRIUMPH, GENUS "Po vrhu vždy je prázdno kolébek" cassette
2nd album finally finally out! You can expect only the best material of this band. Mature, well done and composed Black Metal riffs and really stunning vocal presentation. Lyrics are about the biological endowment of man (which is metaphorically named as soil, clay, mud etc..) It is about the human, individual potential etc. A grave for one, others are sown into the earth, only to grow. Biological determinism, prezygotic barriers, phenotype etc.
08.04.2019
TEMNOHOR "Pıcha Lesov Karpatskıch" 12"LP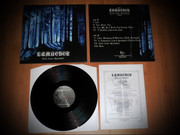 "Pıcha lesov karpatskıch (The Pride of Carpathian Forests)" is the debut album of Temnohor (better known as ex-singer of Malokarpatan band) released in 2008. We are already honored to present you this masterpiece as limited 12"LP. Dare yourself into a journey through deep and forgotten woods, under the shadow of the horns... Unique sound with slight influences of 2nd wave of Scandinavian Black Metal era. This is Old-school Black metal without nowadays pop influences. If you expect a new and modern sound don't waste your time here...
13.03.2019
GITROG "Spectral Heraldry" Digipack CD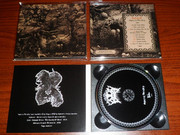 This is debut album of GITROG, originally released only on tape in October 2018. Hexencave Productions is honoured to release this masterpiece on limited digipack CD. GITROG plays really essential Heraldic Black Metal with tribal and ancient sound and terrific variations in vocals. Over 52 minutes of true Heraldic and Atmospheric Black Metal.


23.11.2018
MALOKARPATAN "Stridžie Dni" cassette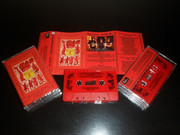 2018 re-press with identical lay-out and aesthetics. "THE WITCHING DAYS" is a celebration of the countryside in Western Slovakia, with all its grotesque myths and lore. All lyrics are written in local dialect and they mostly deal with folklore legends based on rural witchcraft, drunkenness and also national pride. Like the Slovak soul itself, these songs are often both grim and humorous, merry and melancholic at the same time.
15.11.2018
Most of heavy packages will be shipped via DHL, but is is valid only for some EU countries:
Austria, Czech Rep., Germany, Hungary, Poland - package up to 31 kg = 10€
Belgium, Croatia, France, Luxembourg, Netherlands, Slovenia, Italy - package up to 31 kg = 15€
The rest of EU countries (except Norway and Switzerland) - package up to 31 kg = 19€